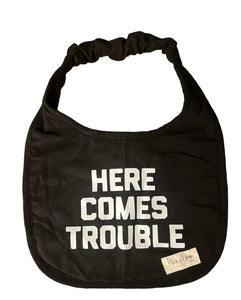 Here comes trouble
Here comes trouble bib is reversible, on one side it has the wording "Here comes trouble " on black soft fleece fabric, and on one side it is made with towelling material in black  . So I guess , when pupper isn't a trouble , she/he can wear the plain black bib , and when trouble is on , just reverse the bib . 
It is Hand-made and trimmed with border with elastic neckband designed to slip in and out your dog neck easily.


Drool Supreme Sized

This will be the ideal size for our Extra bigger Giant Puppers. It doesn't only has a bigger bib area but longer neck too. Good choice for dogs who are 154lbs-198lbs (70-90kg) as a general guide. 

Drool Area 11" long by 14" wide (28cm x 35.5cm)

Accommodate a 23-29.5 inch ( 58-75cm) neck size.
Drool Master Sized  
Drool area of 10" long by 13" wide ( 26x33 cm)
Accommodate a 23-26 inch ( 58-66cm) neck size.
Drool Master size will be a good choice for Giant Dog Breed 110 lbs-155lbs (50-70kg) as a general guide. 
Drool Junior Sized  
Drool area of 9" long by 12" wide (23x31cm)
Accommodate a 16-20 inch (41-51cm) neck size.
For most Giant breed Puppies, the Drool Junior size will last up to 12 months. This size will also fit the heavy drooling Labrador Retriever, Golden Retriever and Clumber Spaniel. As well as smaller built Bernese Mountain dogs, Newfie, Great Pyrenees and Saint Bernards.
Machine washable *Warm gentle machine wash*Soak in warm water then hand wash would be recommended 
*Do not bleach *Do not dry clean*Put a fabric on top before warm ironing
---
We Also Recommend